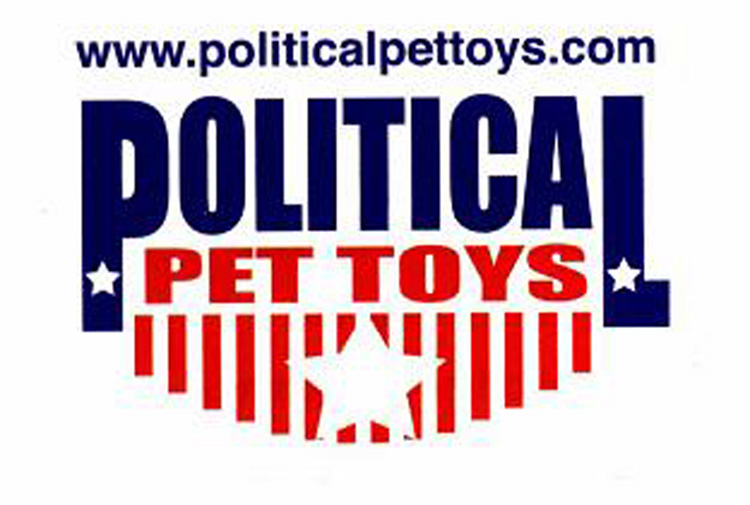 BUSH & KERRY BETTER KISS DOGS BEFORE BABIES.
The company POLITICAL PET TOYS has just launched today pet chew toys of George.W.Bush & Senator John Kerry for this year presidential election.

POLITICAL PET TOYS an Australian company (yes Aussie company so there "ok" to buy we are on your side) started 2 years ago with the range of Bush, Bin Laden, Saddam, I.R.$. Taxman, Bill & Hilary Clinton as pet chew toys.

Bush & Kerry can forget about national polls for this years presidential election as the only poll that really matter is on www.politicalpettoys.com this is because 62% of all U.S. households own at least one pet which equates to a staggering 64.2 million homes.

On these figures pet owners would have to be the biggest voting block in the U.S. today, so both of these politicians better take note and start kissing America's pets rather than there babies, simply put there are just way more pets than babies in U.S. households today.

The creator of POLITICAL PET TOYS Tony Russell has sent a Kerry chew toy to "Barney" the Presidents Scottish terrier and a Bush chew toy has been sent to Senator Kerry (we do hope he is a dog lover too).

Although Democrats and Republicans will want their dogs to rip these toys to shreds, it is not possible in the literal sense, as each chew toy is made from a PVC-RUBBER compound so as to be soft on the animals gums and will last for years.
POLITICAL PET TOYS can be purchased online at www.politicalpettoys.com for $12.95 and will also be stocked in pet stores across the U.S. through our national distributors in the U.S. Hobbs & Dobbs, Inc in Los Angeles.

For detailed media information, facts & figures, images & interviews,
Contact: Anthony Russell
Phone:011-61-416016673 (Direct line)
Fax:011-61-299496349 Email: [email protected]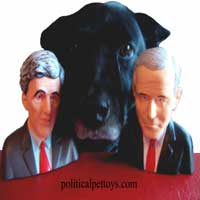 Contact Us for high quality images for your story about
POLITICAL APET TOYS!
STATISTICS FOR U.S. PET INDUSTRY
Pet Ownership In the U.S
There are more pets than people, 377.8 millions pets versus 290 million people
62% of U.S. households own a pet, which equates to 64.2 million U.S. households
In 1988, the first year the survey was conducted, 56% of U.S. households owned a pet as compared to the 62% of present day
46% of all households own more than one pet
Breakdown of pet ownership in the U.S
Cats
Dogs
Birds
Reptiles
Small animals
Saltwater Fish
Freshwater Fish
77.7 million
65 million
17.3 million
9 million
16.8 million
7 million
185 million
Dogs or cats are found in at least 1 out of 3 households in the U.S.
Note: All statistical information can be found in APPMA's 2003/2004 National Pet Owners Survey.
Spending
America's love affair with pets is indicated by the yearly growth in spending on food, care, and supplies
Total U.S. Pet Industry Expenditure
Billion
$34.3 est.
$32.4
$29.5
$28.5
In 1994, the total industry expenditures were $17 billion, nearly doubling in 2003.
For 2003, $32.4 billions was spent on our pets in the U.S.
Breakdown of 2003 Actual
Food
Vet Care
Supplies/Medicine
Live animal purchases
Pet Services: grooming and boarding
$13.7 billion
$7.9 billion
$7.2 billion
$1.5 billion
$2.1 billion
The greatest expense for pet owners over a 12-month period is veterinary care services, followed by food, then supplies
Approximately one million U.S. dog and cat owners have purchased health insurance for their pets
(Source: APPMA / www.appma.org )